All Hail  /  The Cost
The campaign started with a spot that aired during the season finale of The Walking Dead.  "All Hail" showed a new character, Agent Locke, and an injured Master Chief.  This was a very big departure from anything fans had seen in the past, as Master Chief had never been depicted in any way but that of hero.
Then we followed up with "The Cost", unannounced, during the same show switching the roles, showing Chief as a rogue agent attacking another Spartan Soldier.  This was equally as - or even more - shocking as the previous.  Fans did not know what think, which was our goal.
Bullet Teaser
The campaign was teased with a :15 and interactive video of a sniper round shattering Master Chief's helmet.  The teaser featured a series of words carved onto a bullet "son", "abductee", "victim", "orphan", "recruit", "warrior", "ally", "hero", "savior", and finally "traitor."  An interactive version of the film was shown online, and when the viewer would scrub the video, additional frames revealing the words more clearly.
A Hero Falls  /  The Hunt Begins
Before the game's launch we released two additional commercials.  "A Hero Falls" starts with a broadcast announcing that Master Chief has died.  Obviously shocking news, both inside and outside of the game universe.  The response was massive; conversation online reached an all-time high.
A week later we followed up with "The Hunt Begins", revealing that the whole story of Chief's death was a cover-up.  Chief had gone rogue, and Agent Locke was hunting him down.
Social Visualizer
After the release of "A Hero Falls" online conversation and debate erupted.  Our massive fan base was trying their best to figure out what was going on.  To capture this we created a visualizer that let you explore all the conversation chronologically.  After the release of "The Hunt Begins" the helmet changed to that of Agent Locke.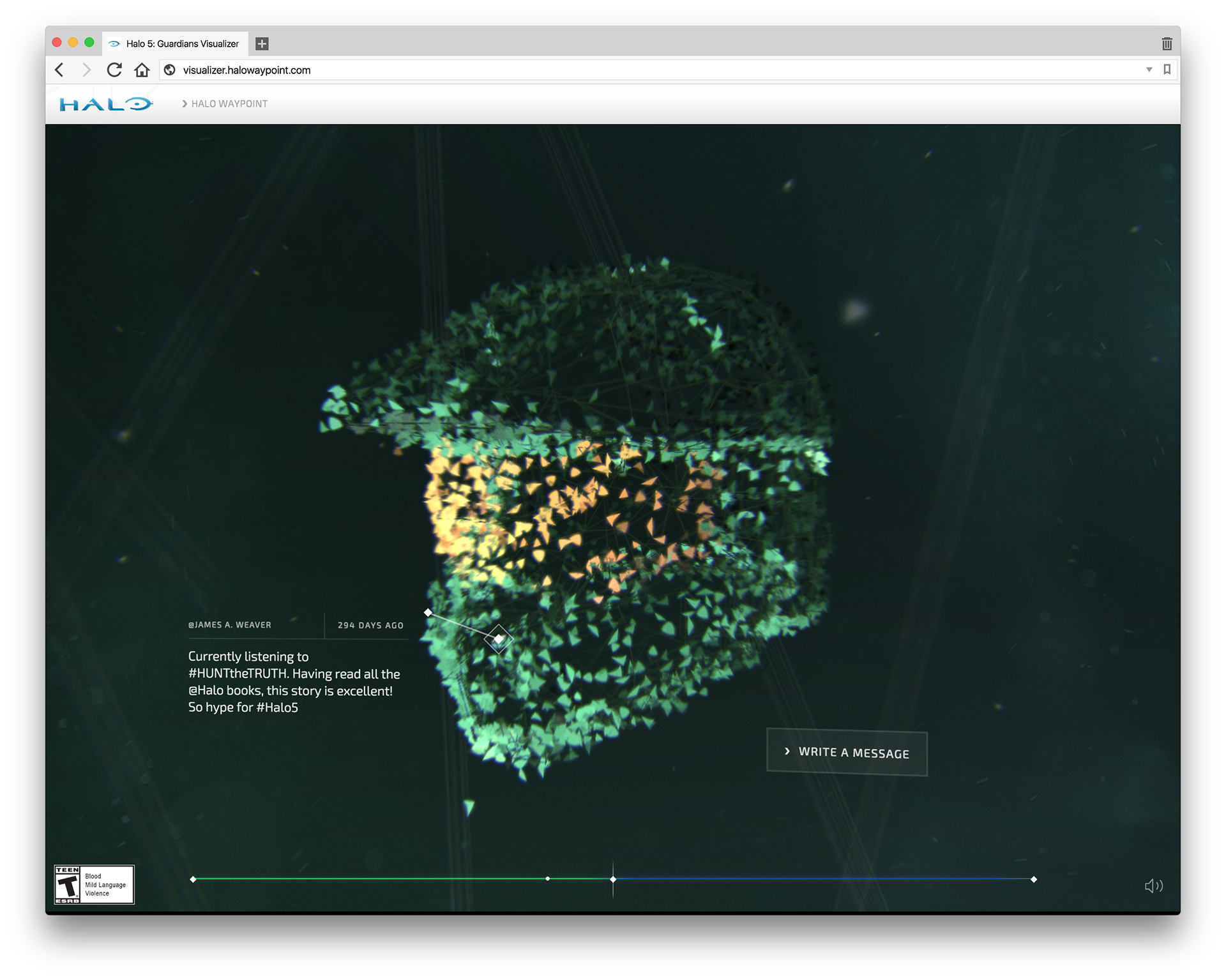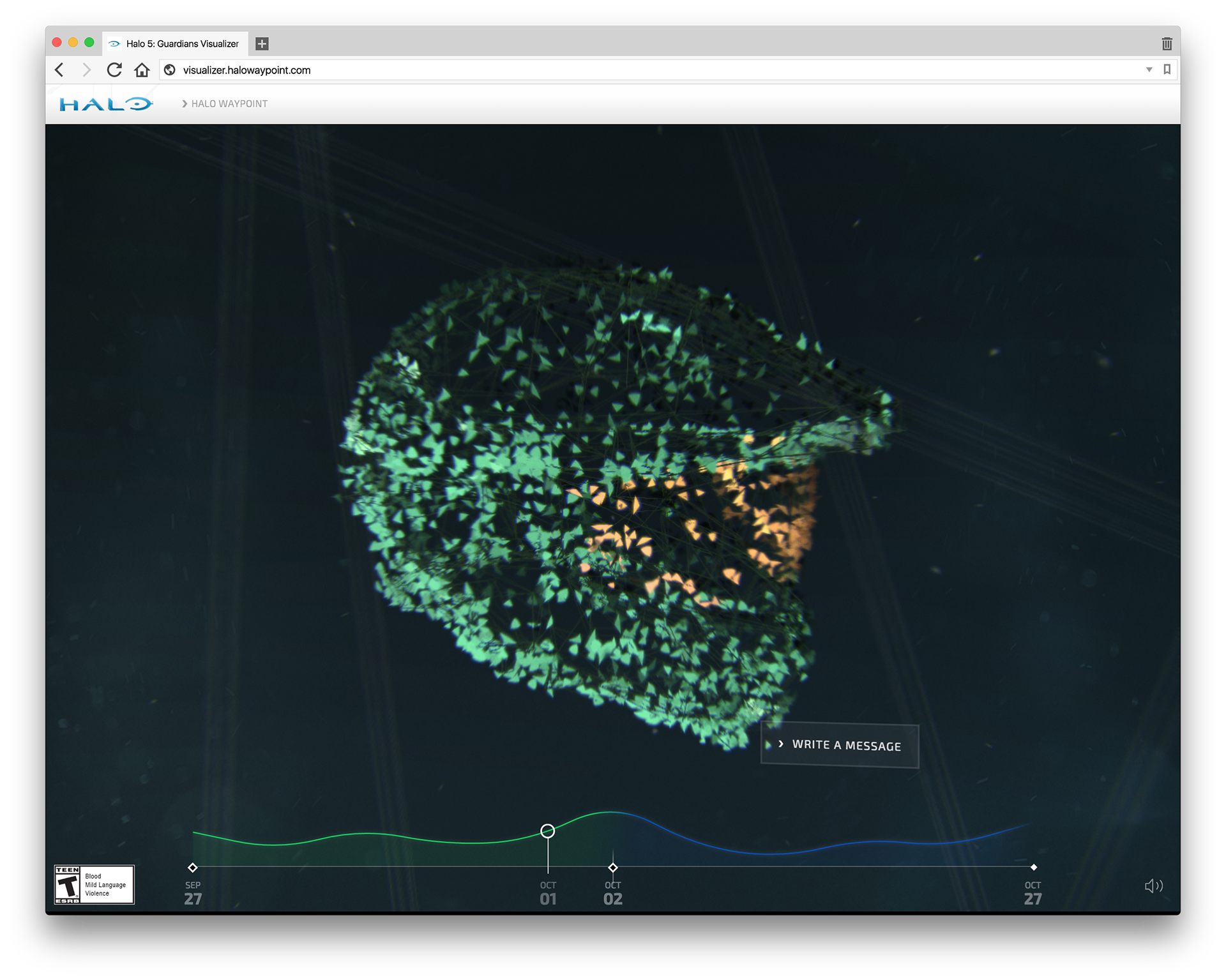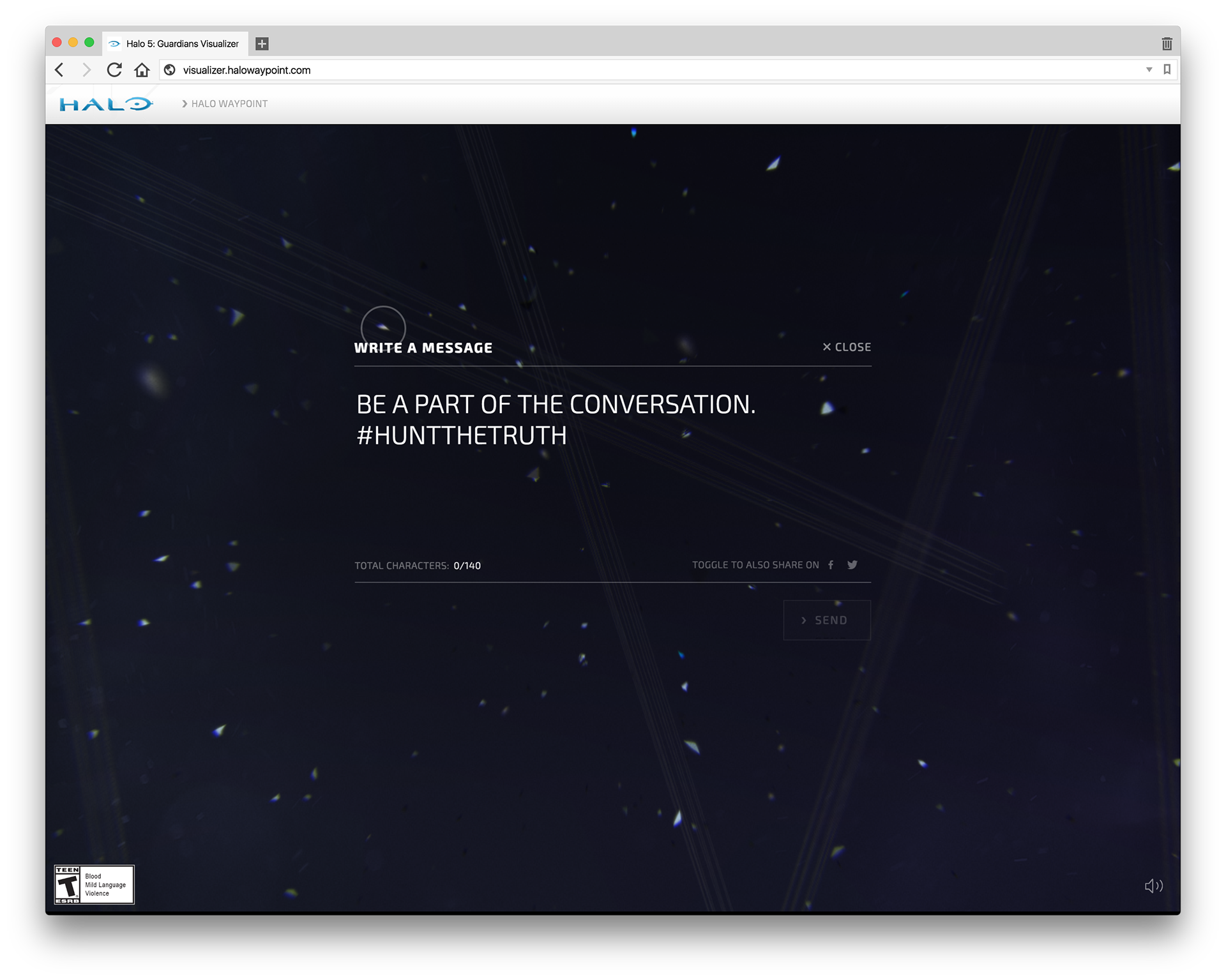 This campaign was a once-in-a-lifetime experience.  The scale was huge, the budgets were healthy, the fictional universe we were working with was rich and detailed.  Above all else, the fan base was ravenous.  Anything we created was watched, rewatched, dissected, disassembled, turned upside down, analyzed, then watched five more times.  
People actually filmed themselves watching the commercials and reacting.  
It was really fun, for us and the fans.